Please click on a project for more images

---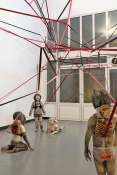 If only
If only continues to investigate "...the murky drives and blind impulses (what Freud would have called trieb) that shape and define the structures of the social. The installation features a maze of life-sized sculptures of children on leashes crisscrossing and obstructing the gallery space.
---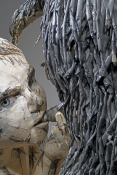 Hysterics
"Hysterics" is based on a found postcard of a boy suckling milk from a goat's udder. The potential misunderstandings due to modern living's alienation from our food-sources are simultaneously funny, repulsive, innocent, and possibly sexual.
---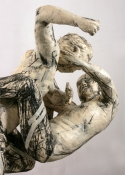 Too Drunk to F**k
Too Drunk To F**k is a project composed of drawings/collages and sculptures based on images found on various websites dedicated to amateur videos of people fighting: uploads from video-phones, school fights, home videos, and secret footage examining the impulsive and subconscious relationship between alcohol, sex and violence.
---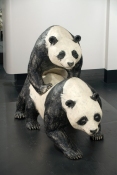 The Sex Lives of Animals
The Sex Lives of Animals at The Museum of Sex presents an uncensored story of the natural world, moving animal sexuality beyond the confines of reproduction and mating, towards discussions of orientation and cognition.

Sarah Jacobs curator
Museum of Sex
---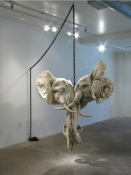 Samson Projects 2007
Solo exhibition at Samson Projects 2007.
See Bibliography for review in Art Forum,
Art in America and Sculpture Magazine.
---
---
---
---
---
---